22 May 2017
10th Birthday Celebrations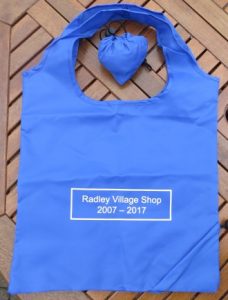 Radley Village Shop opened on 22 May 2007. Ten years on, the shop is thriving and is a key part of the community.
The celebrations kicked off with an invitation to shareholders of Radley Village Shop Association, current volunteers and past volunteers to come for drinks and nibbles in Radley Village Hall after the AGM on 10 May 2017.
Certificates marking ten years of continuous service were presented by Bob Earl, chairman of the shop management committee, to shop manager John Goodenough and those who had been a volunteer continuously since May 2007 in some capacity or other – be it serving in the shop or working behind the scenes. List of recipients
To thank shareholders and current volunteers for their continuing support and loyalty to the shop, the shop has given them a blue foldaway shopping bags printed with 'Radley Village Shop 1997 – 2007'. Current volunteers have also received a £5 gift voucher to spend in the shop as a token of appreciation.
On the birthday itself, 22 May 2017, the shop was decorated with bunting and all customers were offered a free piece of cake and a hot drink from the shop's popular hot drinks machine. The 10-year milestone was marked by the official opening of:
a new outdoor seating area for customers to enjoy an ice cream or hot/cold drink bought from the shop
a mini herb garden at the front of the shop, which residents can use freely once the plants have fully grown
The herb garden was donated and planted by Lucy Wood and her father, David Mulholland, who lives in Radley.
The Abingdon Herald came along to record the day's events, with manager John Goodenough and various volunteers featuring in the front page photo below for the 24 May edition. Read the Abingdon Herald article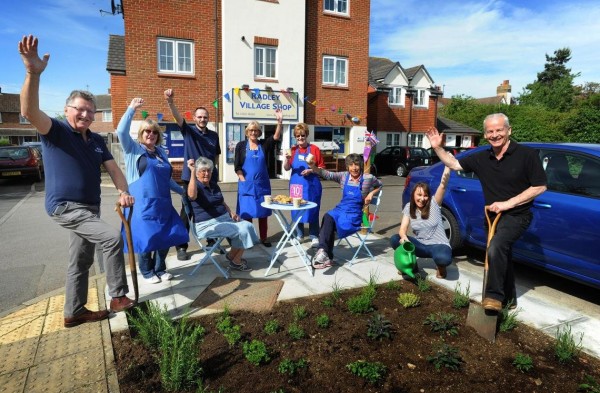 Photo: Jon Lewis
Photos from the AGM

AGM 2017
Presentation of certificates
Time for a chat and a drink
Change between 2007 and 2017
Recipients of 10 year continuous service certificates
John Goodenough (shop manager)

Cyril Ball

Helen Beckett

Jay Compso

n

Scilla Dudding

Pat Earl

Bob Earl

Stephen Ewens

Pam Grant

Jane Hamp

Judy Harris

Dot Hewlett

Joyce Huddleston

John Huddleston

Malcolm Hurdus

Chinta Kallie

Sue Kirkland

Sandra Kramer

Gill Munton

Lynda Crowley

Julie Ridge

Joy Riley

Tony Rogerson

Heather Rogerson

Graham Steinsberg

Carol Sutcliffe

Judy Tams

Martin Wilson

Christine Wootton