Radley Village Shop is led by our shop manager, John Goodenough, and run by some 50 volunteers from the local area. Call for more volunteers
We are very appreciative of the efforts of our volunteers, who help keep the shop running. Do you have time on your hands, want to learn new skills, or refresh those you have? If you want to socialise and make a difference to the village, please get in touch. We have a fantastic, friendly team waiting to welcome you on board. There are always opportunities to help out, whether by serving at the till or doing those other important retail tasks (admin, IT, finance, marketing). There's no need for previous experience as training and continuous support will be given. Volunters working in the shop are asked to wear a name badge and one of the blue aprons provided for staff.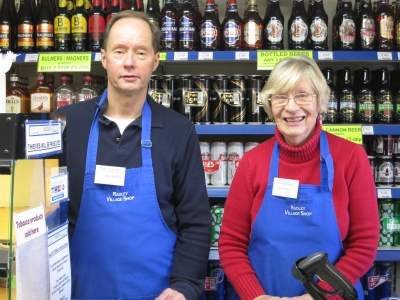 There are always two members of staff on duty in the shop, so you won't be on your own. The rota is run by our Rota Manager (rota@radleyvillageshop.com). Our shifts are around 3–4 hours long, covering seven days a week. Some people have a regular weekly or fortnightly shift. Others sign up to fill in a gap when they can. Come in and talk to us, we have something for you!
Volunteer social events
Free events are organised for volunteers to meet together outside the shop in a social environment and have the opportunity to share experiences. Past events include:
Meals at the Bowyer Arms in Radley
Indoor skittles and afternoon tea at Radley Village Hall
Barbeques in Lower Radley

Quiz with fish & chip supper at the Pavilion, Radley College
Games evening and hot dogs at Radley Village Hall
Old Time Music Hall at Radley Primary School
Bring and share lunch – the first ever social event in September 2007