31 December 2011
Village Shop of the Year – 2011
Radley Village Shop is pleased to have been 'Highly Commended' in the Community-owned shops category of the Oxfordshire Village Shop of the Year 2011 competition organised by Oxfordshire Rural Community Council (ORCC). The competition, which celebrates the best in rural retailing in Oxfordshire, is held every two years and is exclusively for village shops and post offices.
Our customers were asked to vote for the shop by telling the ORCC judges why they were nominating Radley Village Shop as Oxfordshire Village Shop of the Year. Voting took place during the autumn and the judges visited the shops on the shortlist during December. The judges looked for stores that gave excellent service, supplied a wide range of goods, actively improved and developed their business, and supported the local community.
The judges noted the strong support in the community for Radley Village Shop and acknowledged its role as 'the hub of the village'. They also praised the good range of products on sale and its ability to achieve so much in such a small space.
The highly commended certificate was presented on 8th February 2012 to the shop manager, John Goodenough, by the ORCC Village Shops Development Worker, Jane Barker.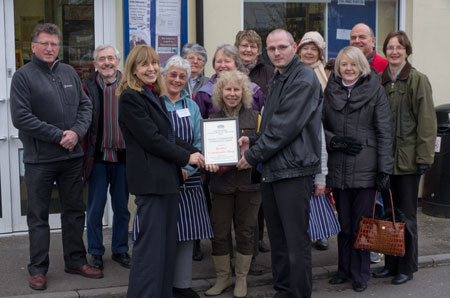 Radley Village Shop opened in May 2007 and is currently one of 18 community shops in Oxfordshire. It has made the shortlist each time it has entered the Village Shop of the Year competition, being highly commended in 2007, winning third place in 2009 and being highly commended again in 2011.
The Best Community Shop category in 2011 was won by Wootton Stores near Woodstock. Ewelme Village Store near Wallingford took second place and Appleton Community Shop was awarded third. Brightwell-cum-Sotwell's Village Stores were also highly commended.
A big thank you to all our customers who sent in nominations for Radley Village Shop